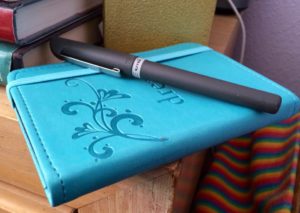 Hi, and thanks for visiting.
Today, since a few people have asked, I'll tell you a little about how I got into writing, and how–for a long time–it didn't look likely I'd ever earn a living with it. I'll also tell you what changed the path for me and how an invitation for a written interview led to a couple of articles–featuring me. I even made the cover of one magazine. And I'll explain why mentors made a huge difference in helping launch this dream. Ready? Let's dive in.

For Love or Money?
I've been writing for a long time. It's always been something I enjoy. I started journaling in my Girl Scout "diary" when I was about 11 years old. I have no idea whatever happened to it. Maybe in the depths of a dusty, old box, in my garage?
It almost feels like yesterday–and then also a lifetime ago. The diary was approximately 4″ x 5″ and maybe an inch & a half thick. It was hard-cover, white vinyl with a green Girl Scout emblem on the cover and it had a little "brass" lock on it. It sported white pages with green lines on both sides of the page. Did you ever keep a diary or journal? It can be interesting to go back and reread them.
Choosing A Direction
I loved to write, even back then. In high school and college, I tested into "honors" English classes. When trying to decide on a direction for college, I was drawn to writing and photography, but always heard (about both), "Except as a journalist, you can't make a living at it." I wasn't sure if I genuinely believed it. But I understood it tended to be a lean living IF you could squeak one out at all.
Journalism was one consideration for a time but I decided I probably wasn't aggressive enough to cut it as a journalist or photojournalist. I am an introvert, after all. I knew making a living as a novelist was undoubtedly a hit-or-miss endeavor–mostly miss.
Ultimately, I went in the direction of the other thing I loved, singing. But I eventually learned, being a vocal music major was not my cup of tea–even with a partial scholarship in it. I took a hiatus from the school thing for a while and went into the workforce.
Over the years, I've done plenty of writing for bosses and lots of editing for them. But I continued looking for ways (other than journalism) where I might be able to earn some of my income with writing. I love it so much, I kind of… have-to-do it. I have my share of short stories, poems, and first few fiction chapters that time constraints interrupted–sitting on my shelves. Can you relate?
A New Possibility Emerged
After being laid-off in late 2007, I learned of the American Writers & Artists, Inc. (AWAI). It's an organization that trains many of the top-earning, A-list copywriters in the country (and I suppose, in the world). I began taking courses from them while continuing to look for a new job. I made some progress, but after I found a new job, my progress slowed. I now realize I wasn't making it big enough priority. I needed to schedule the time to do it–and stick to it.
I joined the AWAI Circle of Success in 2011 and made more progress with guided coursework online. I attended the 2012 Writers Bootcamp and learned a lot more. Ultimately, I have taken the various writing and goal-setting skills I've gained through my AWAI training and successfully put them to work in my own business. It's merely taken a while. The scenic path is not such a bad way to go. I suppose it gives us more to write about, once we "get there."
"Let's Hear Some Success Stories."
This past September, I was reading one of my AWAI membership weekly premier updates, by Pam Foster, Director, AWAI Copywriter Training. In the newsletter's last few lines she said, "As always, I welcome your questions, little wins, big wins, and other comments…"
It's been a pretty good year for me. Over the last few years, I gained the knowledge I needed to create and launch my business. It wasn't easy and I found mentors to help me learn it. I'll tell you more about them in a bit. But with Pam's invitation to share wins, I decided to tell her about my unusual path and the successes I've had, especially in the last couple of years.
"You Want to Feature Me in an Article? Cool."
In late September (2017) I was delighted with an invitation for a written interview with one of American Writers and Artists, Inc. (AWAI) newsletter authors, Jason Holland. His assignment was to interview me as an AWAI member success story and write up my profile for an article on their website newsletter.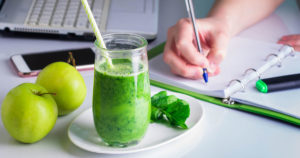 This first article featuring me, "Finding a Renewed Lease on Life–and Copywriter Success–in the Health Niche," came out on the main AWAI website on October 26th, 2017.
You can read it here.
And Another One
Then, in October (2017), I was invited, again by AWAI, to be featured in their membership magazine Barefoot Writer. A "barefoot writer" is a writer who is earning a living (or partial living) as a writer, and they can successfully write from anywhere–from home, the backyard patio, the beach–wherever.
For this article, I did a written interview with AWAI writer, Li Vasquez-Noone. She also asked me to submit a few photos they could use in the piece. I learned the article featuring me was coming out in the December issue. But I was surprised on December 5th, 2017 when I ended up on the cover! That was exciting. I posted it on my Facebook pages, my LinkedIn… all over.
Since the magazine is a membership magazine, I cannot share the entire magazine with you. But I CAN direct you to a PDF of my section where you can read my featured article: "Barefoot Writers Come From All Walks of Life… Coming Full-Circle in Writing, Health, and Success."
Success is a Bit Easier When You Have Good Mentors
Earlier, I mentioned finding mentors to work with, so I could learn "the business end" of this entrepreneur thing. I realized if I kept doing things the same way, and slogging through learning "the ropes" on my own–I would stay stuck for a long time. I looked at all the successful people I've admired, and they have all worked with coaches.
So–I've invested in business coaching a few times since 2007. It's the best thing I could have ever done. It moved me forward so much faster than if I'd continued to grind through it alone. I've worked extensively with Stacey Curnow, of Midwife for Your Life, and with Natalie Hill, of Sacred Business Adventure. In addition to the plethora of training I have available through AWAI, Stacey and Natalie helped me learn how to build my business using my Zones of Genius, as it's known in the entrepreneurial world.
I continue working with a mentor/coach. I'm currently working with Coach Marylee Pangman, MPS, CRC. She is terrific. She is a perfect blend of understanding, encouragement, and holding-my-feet-to-the-fire accountability. Her niche is "Women Reinvent Retirement." I'm not exactly retired, although I suppose re-building my life from crashed-health and disability is one flavor retirement could take on.
There you have it–a snippet of my path in the writer's life. If you've been slogging away at writing (or whatever you're passionate about) and trying to make a go of it and not seeing the progress you'd like to see–maybe it's time to bring in reinforcements.
My best advice is to find mentors you resonate with and work with them any way you can–even if it's within their smaller workshops and programs at first. Invest in yourself and your business. Find a good critique group and soak in the feedback–open yourself to learning.
And–don't give up.
Be Well,
~Paula